Sunny beach is the most attractive and fast developing sea resort. Click here!
Every year Sunny beach welcomes tourists all over the world, including UK citizens who wish to spend their summer holidays at sea. This city is one of the most popular, attractive and fast developing resorts in Bulgaria.
If you want to spend your holiday in Sunny Beach, this will be very good choice, for sure.
Located in the south, Sunny Beach is known for its beautiful beaches, countless fun and attractions, drawing and suitable for both children and adults. The resort is also the first who deservedly received the "Blue Flag" award.
In the past, Sunny Beach was just a place that the people from the neighboring towns made use for a walk. Because of the nature of the place, it was decided to be created a holiday resort, as the first tourist season began in 1959, June.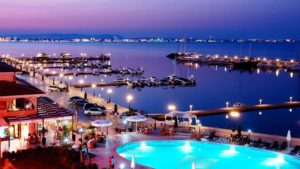 The extraordinary fast development of the Sunny Beach resort transforms it every day and currently the city is the most famous and preferred by the foreigners summer destination.
On the resort's territory there is a huge selection of hotels, while the construction on new ones continues.
For every taste and financial state there is an appropriate offer, and the opportunities to have fun in many different ways, abound. Literally, with every single step made by you there are attractions, or people offering various offers /for restaurant, night clubs, etc./. Also for the lovers of arts there are artists on every corner, who will make a portrait, or from which you can buy a picture with beautiful landscape, reminding you of the resort for a long time. Besides, more extravagant people will be able to make a temporary or permanent tattoo.
Due to ceaseless building in Sunny Beach, its appearance is changed annually. People who recently have not been here, they will surely see a huge change, as there is even the possibility they to be not able to recognize this strange city.
The resort is a preferred destination mostly among the young people, due to highly dynamic and attractive atmosphere. The richness of nightclubs, discos and bars, makes it a place where the Bulgarian people organize secondary-school students' farewell balls in May.
During your stay in Sunny beach, you can take the opportunity to ride jet, water skiing or windsurfing, visit the aqua park or simply enjoy the disguising sun. For the people preferring to use swimming pools, you have to know that they are available with various size and depth in each hotel.